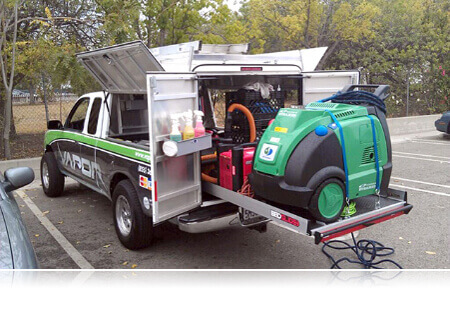 Simplify Your Business
Are you a mobile car wash operator? Then you probably carry – a pressure washer, a 100-gal water tank, a waste-water tank, wash mats, a water reclamation system, an air compressor, a 2000-watt generator, two dozens of chemical bottles, piles of rags, among a few other items.
To use steam will downsize your overhead BIG time. Optima Steamer uses a fraction of water and chemical, generating zero waste-water run-off. This means no need to fill up an oversized water tank every morning, and no prep work to contain water and no clean-up, eliminating the need to carry a heavy reserve water tank and a waste-water tank.
The steam of Optima Steamer breaks up most of soil, grease and grime on a car which will reduce the chemical consumption by up to 90%. The gentle pressure of steam works as an air compressor with a natural sanitizer built-in-one, no longer requiring an air compressor.
With Optima Steamer, you no longer need multiple equipment and chemical bottles and heavy water tanks in limited space of your vehicle.